The Listing Next Door
Turn ANY Sold Listing into
YOUR Next Listing
(even if it wasn't your sale)
Dear Friend,
Here's a really simple -- sort of sneaky -- way for you to get more listings by marketing around recent sold activity in any neighborhood - even if it wasn't your sale.
Here's what I've got to make it really easy for you...
First - A lead-getting postcard to mail or hand-deliver to the 50 or 100 homes immediately around any sold listing.
Odds are, one of the neighbors around this sold listing have been waiting for that house to sell - and will put their house on the market in the next 7-10 days.
Sold signs breed for sale signs.
If you act quickly, you can be in their mailbox within 24-48 hours after the sold sign goes up.
The reason this postcard is attractive is that it gives potential sellers an opportunity to get exactly what they want - information on what homes in their immediate neighborhood are selling for right now.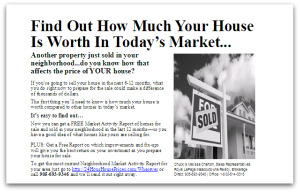 The postcard is "photo-ready" to print - just add your contact info and you're ready to go.
You can print them on your own printer, or take them to any printer or copy shop.
Just mail the postcard
and when people respond...
I've written a direct response letter offering to get together with them so they can find out exactly what their house is worth, and which fix-ups would give them the best return on their investment.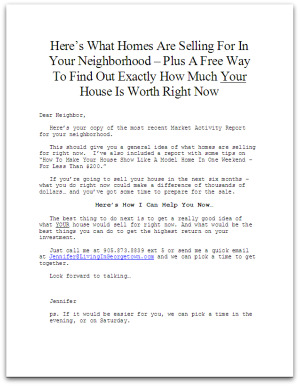 PLUS - You get a free magazine article-style report called:
"10 Ways To Make Your House Show Like A Model Home, In One Weekend, For Less Than $200"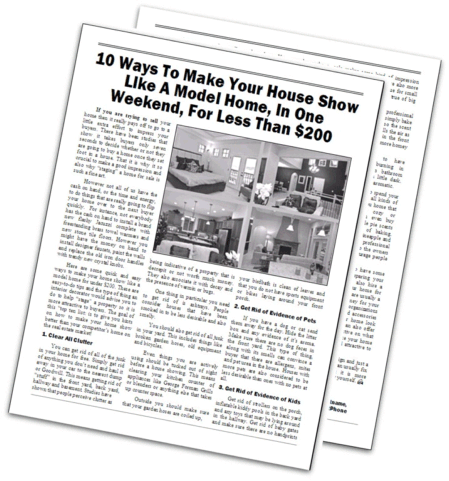 You just add your contact info as the author of the report. You can print it in color on your printer or in black-and-white (maybe on cream paper)...whichever you prefer.
Then, all you do is include a printout of the homes that have sold in their neighborhood in the last 6-12 months - and the homes that are for sale right now.
So, Here's What You Get...
The "photo-ready" listing lead-getting postcard
The direct response appointment-getting letter
The magazine-style article, "10 Ways To Make Your House Show Like A Model Home, In One Weekend, For Less Than $200."
All you do is add your contact info and you've got an easy listing-getting system.
Today is Thursday, September 15, 2016, you can get all 3 of these tools for free and be up and running in a few days.
Just leave your name and email below, and I'll send it right to you.
Happy Listing-Getting